Pictures of some other Gwenlan places.....
This is Vine Cottage, Abergavenny. William & Jennet Gwenlan were living here when their son, Edward died in WW1. His records can be found on the Commonwealth War Graves Commission website. He is the only Gwenlan recorded as dying in combat. Their family records are on the database. Vine Cottage is now the offices of a Haulage Company.
This painting is in the Brecon Museum, showing the 2nd Battle of Ypres where Edward died.
A member of the 3rd Battalion (Private 2023), he landed in France on 14th February 1915, and died on the 8th May 1915, aged 19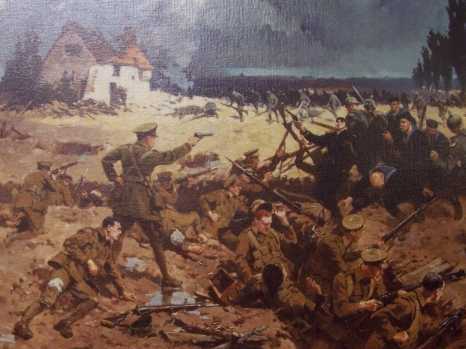 For a map to here, Vine Cottage, Abergavenny
---
The Bedwellty Workhouse, Llyswedog Farm, above Whitworth Terrace, Tredegar, pictured in 1852.
In 1881, my Great-grandfather John Hogan, was resident, aged 6, with his Mother Rachel, a widow aged 42 - both classed as Paupers. At the time, 265 persons are listed (Staff and residents) in the buildings.
---
These are a few Church's & Chapel's we've found:
From the mid 1600's until the late 1700's, the Gwenlan family were married & died here;
Llanthewi Rhytherch, Monmouth
From 1788 until about 1810 they were married here;

Llantilio Pertholey, Monmouth
Erasmus Higgins married Rachel Jones here at the Siloh Chapel, Tredegar, on 31 October 1860. It was the first Baptist Chapel built in Tredegar in 1806.