Pictures of some of the Willis places.....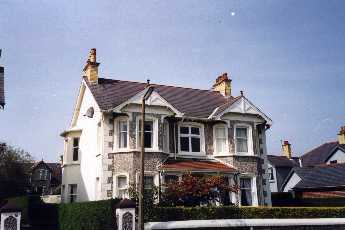 4 Brooklyn Avenue, Bangor, N. Ireland, where my mother was born on 30th March 1929, and Aunty Rhoda on 1st October 1930. Their father, William James Willis, was a Baptist Minister at the time. In 1957, he went to Canada with a "Fanny Marsh". He died on 12th March 1986 in Scripps Rancho, 92131, San Diego, California, USA.
William's wife was Florence Smith, who was adopted - so tracing her roots is virtually impossible. However, there is an interesting family tale to be told....
---
William was born on 17th April 1889 at 29 Summerland Street, Exeter, Devon:
- This is the only surviving part of the street - the rest has been re-developed after being destroyed in WWII....
Here is Summerland Street after the Blitz of 1942:
---
William's sister, Lily, lived at 25 Alexandra Terrace, Teignmouth up to the end of her life:
---
This is where my Mother is buried - at this moment there is no headstone to mark the plot (it is the one on the right...)
Lower Buckeridge Cemetary, Teignmouth, Devon
---
I received this from the Executive Director of the Oriental Missionary Society UK, Bill Burnett, in July 2001 - "From what we know they (William James & Florence Willis) spent a term in Korea before becoming General Secretary of the Mission in 1928 with an office in Bangor N. Ireland. They went out to China in late 1936 to replace missionaries coming on furlough. Mr Willis spoke at the dedication of the rebuilt Bible College in Peking in January 1937."
For more information on William and Florence Willis, click this link..

Other Willis places can be found here:

---